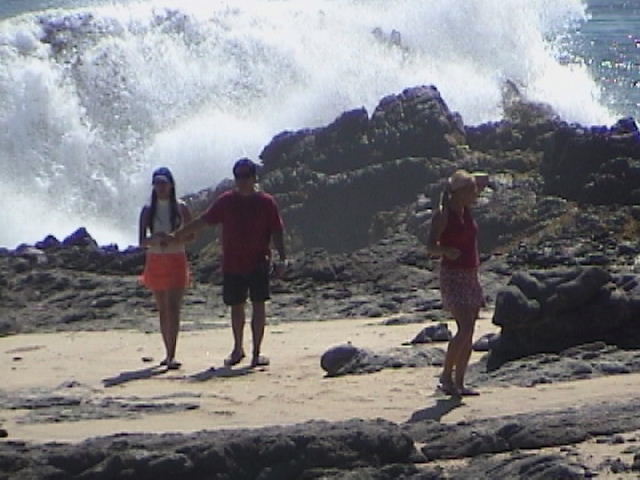 Los Cerritos - The waves are wild here...hence the surfers. Two were drowned a month ago though as there is a strong rip tide here at Los Cerritos. The day before we got here a female triathlon swimmer had to be rescued and one guy has rescued 4 tired surfers since we've been here. You wouldn't believe the size of some of the breaks. I tried spear-fishing, but it's too dirty. The rip caught me about one third of the distance into the surf-zone and in about 30 seconds freightered me out triple the distance of the surf-zone. I was way out, but it's pgjust a question of not fighting the current and tiring yourself out. You can just angle in to shore and you're fine...but crossing the surf-zone it ripped off my mask and snorkel and I never saw them again. I did manage to keep the mouthpiece though, yahoo! Then, Doreen (see pic) was standing on the dark rock you see behind her thinking she was safe because there was a rock four times higher beyond to buffer the wave (see the white foamy stuff beyond the dark rock)...not so it crashed over the far rock then swept her off her perch and tore a chunk of her big toe.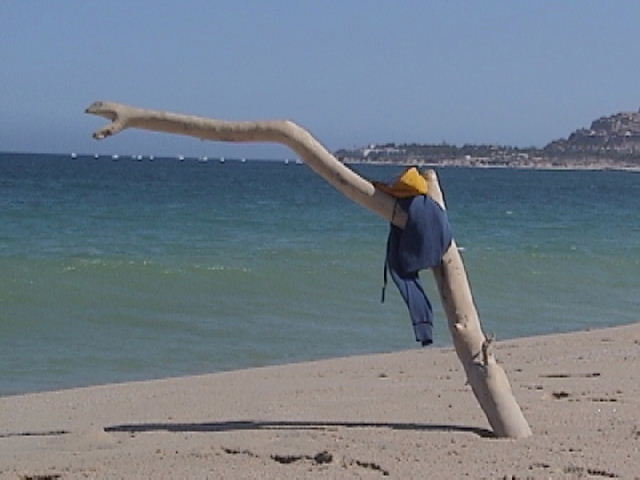 A week before this "tree" was a piece of Driftwood lying on the beach at San Jose but the high tide and pounding surf buried most of it, leaving this branch sticking out of the sand.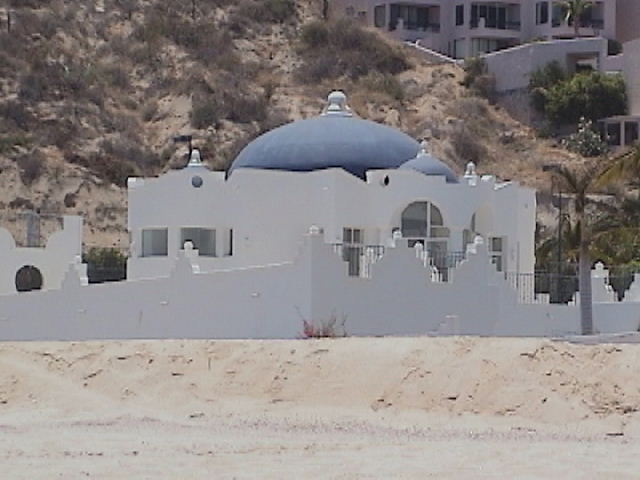 There are unbelieveable beach homes and villas at Los Cabos.
We were invited to a barbeque one evening (not at the above house). Cynthia is an agent for the owners and rents them out when the owners are away. The home we ate at rented for $1500 per night and they have some over $4000 per night and people will book them for a couple weeks a year in advance. They and the maid lost each other in one the other day. It's as big as a hotel...polished marble floors, stone columns etc. Even where we're house- sitting is nice. So we're getting this strange mixture of being desert nomads to fine surroundings...it's fun.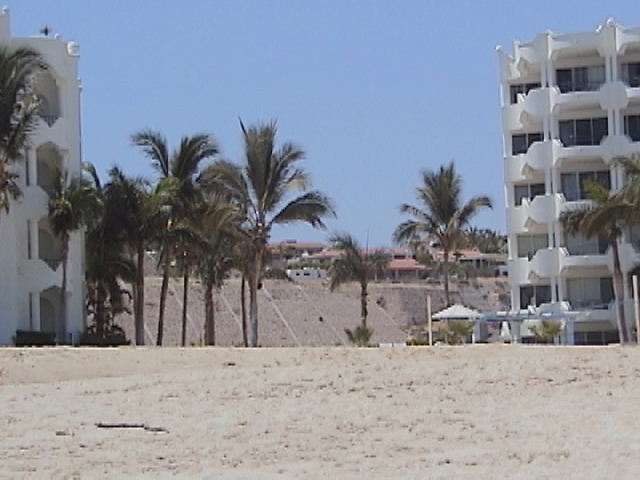 If you look carefully you can see our trailer perched on the cliff behind beach area.