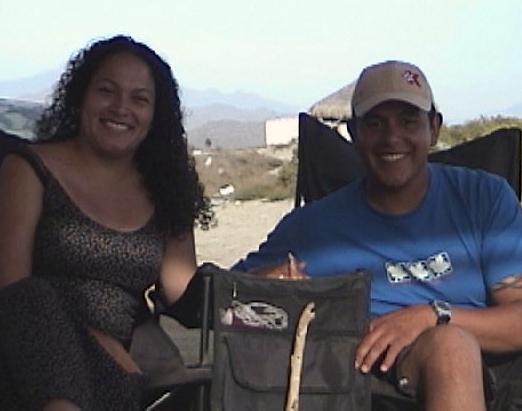 This is an excerpt from a May 16 e-mail I sent about Tony & Brenda.___________________
We had a nice experience last week in Todo Santos . We were camped on a beach where a lot of American surfers come. At night we heard a vehicle drive in between us and the next camper. I know how intimidating it feels coming into a strange encampment at night, so I went out to ask them if they wanted to camp there. It was a young Mexican couple and they said yes. When I told them they were fine there and that it was safe, I saw a wave of relief come over the wife's face. They slept in their vehicle and the next morning, the man, Tony asked if I knew how to set up their tent, so I showed him. He said he liked Boogie-boarding and had tried a surf-board that he'd received as a gift, but didn't like surfing so asked if I'd help him sell it so they could extend their vacation a bit. He was going to ask $150 U.S. but would give me anything over $100. I said I'd help him but didn't want any money for it. I helped him a bit by connecting him up with someone who inquired when he was away. He sold it and came to me with the money and insisted I take it above my refusals. They extended their stay for 3 days, and we spent a lot of time together. Later that first day when an American couple had their car-stereo stolen he showed me his ID that he is a Federale Police Investigator from Tiajuana. That evening over the bonfire he told me that three months ago police had broken the biggest drug cartel in Mexico and confiscated all their records of police on their payroll. A month ago a sting was set up where all police were invited to a barbeque. When they arrived they each received a ticket instructing them where to locate. This separated the honest from the dishonest into groups and the military and SWAT teams moved in and disarmed the suspected ones, threw them on the ground and handcuffed them. All levels, police chiefs included were trucked off to an underground stronghold in Mexico City. Tony was among the innocent, but said some of his best friends were arrested for corruption. You can see that he's still affected by it. Mexican Federales have been notorious for their corruption until now.
As an Investigator he has a 500 mile long territory and sees all the worst crimes in the Northern Baja. He's only 24 years old and Brenda his wife is 21. He's been with the police for 5 years. You can see how disillusioned he is with Society. Brenda is terrified each time he goes to work.